My 2nd Ledger Nano S Arrived. And this is how they look.
As of this writing, I have been into the Crypto world for just roughly five months. Most of my digital money are in Ethereum, because compared to the popular Bitcoin, it is a lot faster, cheaper in terms of transaction fees, and has more utility, e.g. ICOs, ERC20. Apart from that, it has a good roadmap.
I had maintained more than fifteen MEW (myetherwallet.com) wallets, each having distinct purpose. Also, because of the transparent nature of Ether Ledgers, it's good to have a lot of these wallets to somehow obscure privy eyes from stalking them.
Because keeping at least fifteen private keys is a pain in the head, I eventually considered getting a hardware wallet to store all of my digital money. Now, after tinkering with the first one, I decided to get another one. Later, I will explain why.
BIP39 and 24-word Seed
Instead of having to remember a lot of private keys, all Ledger Nano S (LNS) hardware wallets use the standard BIP39 algorithm.
It works by having 24 random words act as the seed. With the 24-word seed input, the BIP39 algorithm consistently generates the same series of private keys. These private keys are not revealed, and technically, as per the manufacturer, don't "get out" of the hardware wallet.
This means that if ever you lose your LNS wallet, a new LNS wallet, given the same 24-word seed input, will generate the same set of Private Keys that you would have been using.
That's convenient.
Transitioning my Wallets
If you already figured it out, you cannot add your existing MEW wallets to your LNS because it maintains its own set of addresses given your 24-word Seed.
So all contents of my previous wallets had to be transferred to specific addresses in my LNS. The transfer was pretty cheap since I would only spend 0.1 Gwei per transaction, around PHP0.50 only.
Accessing my Wallet Addresses
This is the only chrome app you'll ever need. I only used this to Install the specific Blockchain Wallet, in my case Ethereum Wallet, into my LNS. On a brand new LNS, Bitcoin and Ethereum Wallets are already installed.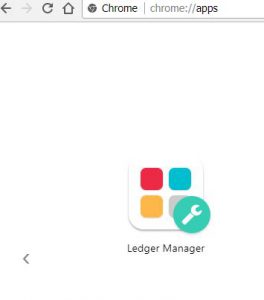 So, to access your Ethereum wallets, go straight to MEW https://www.myetherwallet.com/, select View Wallet Info, and select Ledger Wallet.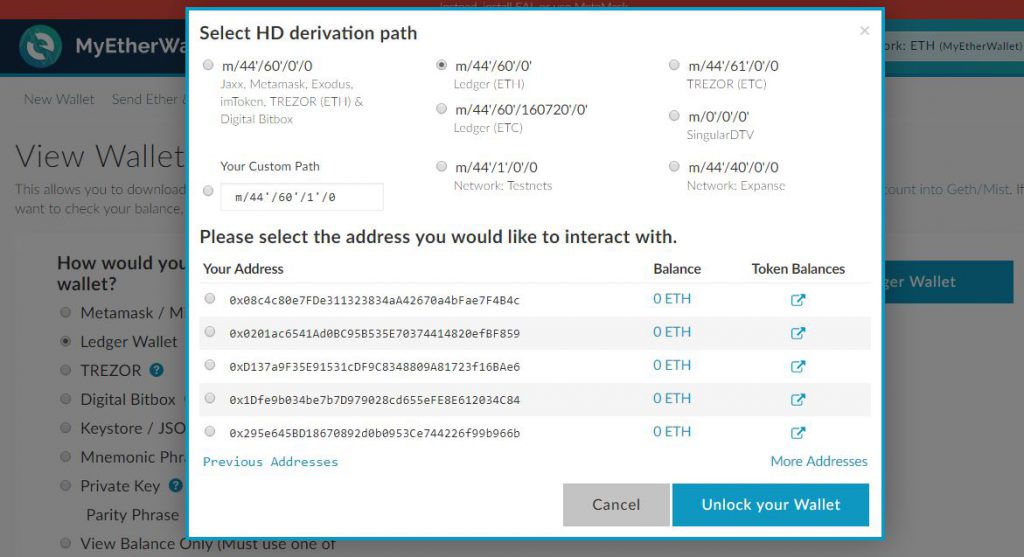 All addresses generated from the BIP39 algorithm will be shown. It's virtually unlimited.
Why Two Ledger Nano S?
Because I put all my digital ethers and ERC20 tokens in the addresses generated by my LNS, if ever I lose one, I will be able to immediately open my wallets using my 2nd LNS. I will be able to temporarily use my cryptos while my order for a new LNS is on its way.
After the new LNS arrives, I will simply generate a new 24-word seed, transfer everything to the new set of addresses, and then, reset the seed of the first LNS to match the seed of the new LNS. My old set of addresses from the old seed will be empty.
Tips on Getting Started
Now that you have your LNS, backup your seed. Don't put everything in one place. Jumble, and scatter the words around. In my case, I even created a simple algorithm to puzzle up these 24-words together.
Then, activate your LNS. Instruction is found in its official website. Afterwhich, familiarize yourself with a few of your LNS generated addresses.
This one is the tedious but necessary part. Imagine you lost your LNS.
What do you do? You reset the device from scratch. Install the Ledger Manager Chrome App, and recover the wallet using the 24-word seed. After a successful recovery, look at the addresses and verify if they are the same ones you previously noted before the reset.
If they are, then you are good to go! You may now safely use your new Ledger Nano S.
Feel free to drop comments below if you find this post helpful.